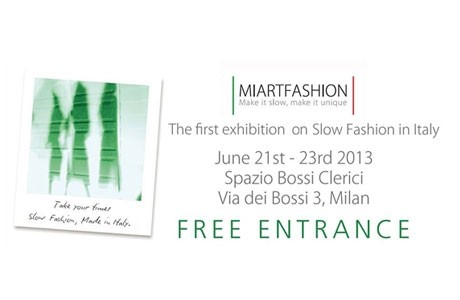 | MI ART FASHION / spazio bossi clerici / 21-23 giugno
The first exhibition on Slow Fashion in Italy. Let's give value to high quality, hand-crafted fashion products. 21-23 JUNE 2013, MILAN, SPAZIO BOSSI CLERICI.
To register to the event, click on:
http://jotformeu.com/form/31353038694355
The first exhibition on Slow Fashion in Italy will take place in June 21st – 23rd 2013 at Spazio Bossi Clerici – Via dei Bossi 3, Milan.

The B2B showcase, organized by CNA Milano (National Confederation of the Craft Sector and Small and Medium Enterprises) in collaboration with CNA Federmoda, occurs in the frame of Main and Men's Fashion Week Spring/ Summer 2014.

The commodities sectors at MiArtFashion are the following:
-Man-Woman-Child Clothing
-Woman accessories
-Man and Woman shoes

The way the artisans use their hands is the result of the knowledge acquired over time, of expertise and high quality manufacture. In Italy, small sized fashion businesses are playing the role of our culture heritage keepers. MiArtFashion aims at giving value to craft know-how within the new Italian fashion panorama, unafraid of competition if internationally oriented.
OPENING HOURS
Friday June 21st: 12.00 pm - 9.00 pm
Saturday June 22nd : 10.00 am - 9.00 pm
Sunday June 23rd : 10.00 am -6.00 pm
http://miartfashion.com/
> Vai al sito